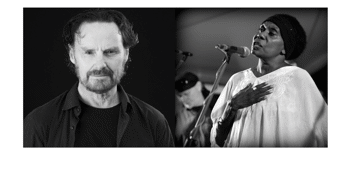 Neil Murray - Keep Rollin On w/ Lois Olney
Lois Olney
Clancy's Fish Pub- Fremantle (Fremantle, WA)
Friday, 13 August 2021 8:00 PM
Neil Murray Keep Rolling On in concert at Clancy's August 13th 2021
Maverick song man Neil Murray is touring nationally in 2021. He is a founding member of the pioneering Warumpi Band, which penetrated mainstream Australia with the iconic anthems My Island Home and Blackfella Whitefella, he is now a respected singer/songwriter, with a string of remarkable albums, the most recent being Blood & Longing and Tjungu (all in one, joined together) with Sammy Butcher.
His latest single, Keep Rolling On, celebrates the continuance of First Nations people and their culture in Australia and is an apt title for the resumption of his touring after being interrupted by the Covid pandemic.
Neil Murray's accolades include the 2017 Port Fairy Folk Festival Artist of the year, the 1995 APRA song of the year award for My Island Home. The latter plus Jailanguru Pakarnu ( Out from Jail- a 1983 co-write with Sammy Butcher in the Luritja language) have been selected into the National Film and Television Sound Archive's Sounds of Australia Series.
Artists such as Mary Black, Jimmy Little, Missy Higgins, Powderfinger and Liz Stringer have recorded his songs. Always engaging live, Neil Murray's work has contributed substantially to Australia's contemporary music heritage. Don't miss one of Australia's finest singer songwriters in concert at Clancy's Fish Pub supported by the fabulous Lois Olney.