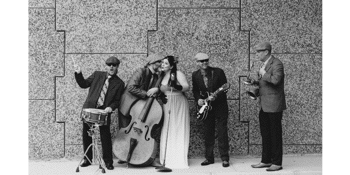 Supersonic- Swing Rockin' Rhythms
Clancy's Fish Pub- Fremantle (Fremantle, WA)
Friday, 16 October 2020 8:00 PM
The Bands
Harry Deluxe (&the Cap Gun Johnnies)
There's nothing more exciting than the sound of a sassy rockabilly filly or a siren of swing out front of a serious posse of hot boys getting messy with their instruments. Harry revels in the raunchy retro sounds and loves to get 'down and dirty' with her boys. Harry is a raunchy retro-inspired songbird whose vocal talents rival some of the hottest swing and rockabilly icons. .

Johnny Law & The Pistol Packin' Daddies are a four piece band who play 1950s inspired Rock 'n' Roll, Country and Rockabilly covers and originals.
The band has played music festivals and gigs in places such as Italy, Las Vegas, Long Beach, Seattle, Germany, Belgium, The Netherlands, Spain, Melbourne, Brisbane and Adelaide and released 4 full length CDs with the 5th to be released in late 2020.

The Vibrolators featuring Miss Peta Lee
Wild west coast hipsters of jumpin' jive, supersonic swing and rockin' rhythms, The Vibrolators, combine forces with the sultry, sassy Miss Peta Lee to give you an exhilarating ride of the vintage jump blues 'juke joint' sounds of the 1950s and 60s. Sure to trigger your groove gland, getting your toes tappin' and your butt shakin' with their mix of covers and originals! The Vibrolators have played alongside not only international blues acts such as Little Charlie and the Nightcats (USA) and Lynwood Slim (USA) but also the like of Kate Ceberano and the Black Sorrows.