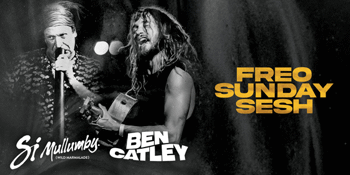 Ben Catley and Si Mullumby
DJ's
Clancy's Fish Pub- Fremantle (Fremantle, WA)
Sunday, 10 October 2021 6:30 PM
With momentum continuing to rise for their hugely uplifting and energising co-healine show, Si Mullumby & Ben Catley return for their THIRD Freo Sunday Session at Clancy's. With body-shaking didge, huge percussion, incredible guitar playing and much more, catch two of Australia's most high energy solo acts on Sunday October 10th.
From 6:30pm with DJ sets all night for non-stop feel-good vibes.
SI MULLUMBY:
Widely regarded as one of the world's best didgeridoo/yidaki players, Si Mullumby's path has spanned many continents, created new styles of playing and has cut plenty of new ground with Australia's iconic instrument. Well-renowned as a member of the band Wild Marmalade, Si now brings a wildly energetic solo show to the stage. Packed with percussion, didge, guitar and flute, his huge live show effortlessly gets everyone on their feet and smiling from ear to ear. Si is a multi-instrumentalist, a writer, philosopher and leader. He is a free thinker who has lead a wild and unusual life following his heart at every turn. Now based in Fremantle, he opens a new chapter of his already colourful journey.
"An astonishing solo player!" Cirque Du Soleil
BEN CATLEY:
Ben Catley's mesmerising guitar playing, huge vocals and uplifting stage presence have seen his live shows become renowned for their energy and craft. Performing at festivals amongst huge names all around Australia, New Zealand, UK and further across the world, he captivates crowds like few other solo acts. With plenty of releases recently (including tracks featuring Wim Hof and Ash Grunwald), Ben has established himself an uplifting and motivating music brand. His vast array of guitar skills and thumping percussion make his music wildly energetic, dynamic and beautiful, weaving between rock, dance, blues and roots.
"Vibrant and big energy roots. It's pure and feeling-centric." Xpress Mag
"Energetic and up-tempo is an understatement." The AU Review
________________________________________
All music played with respect to Noongar Boodjar.